After I dropped in on the GMU Dance Department last Tuesday, I decided to blog about some of the progress of the current residency. Peering into studio A307, I saw the cast of dancers rehearsing Twyla Tharp's,

Eight Jelly Rolls,

a contemporary piece created to the music of Jelly Roll Morton. Setting this residency is Tharp dancer, Katie Glassner. Congratulations to the cast and understudies of this piece. I only saw a couple minutes but it looks like the dancers are having some fun with this piece.

I was also able to catch the tail end of the rehearsal for Mark Morris'

Gloria.

I am especially proud of the cast and understudies of

Gloria

. Marjorie Folkman, of the Mark Morris Dance Group, had been working with the cast of this piece during the residency period. But after working in the department for only 2 days, her father, Judah Folkman, passed away unexpectedly. Folkman was an extremely well-known cancer researcher throughout the medical world.

Cast member, Nate Bond, spoke to me about the incredible talent of Marjorie Folkman and how much the cast was able to accomplish before she left. "We were able to learn two full sections and the theme steps for the rest of the piece before she had to leave unexpectedly."

After Marjorie Folkman's unfortunate departure, the cast has been piecing together the remainder of the dance using video of the MMDG, as well as the knowledgeable resource of former Morris dancer, Dan Joyce, a respected faculty member here at GMU. On Saturday, Joe Bowie of MMDG, arrived to finish setting and cleaning Gloria, working through Sunday and Monday.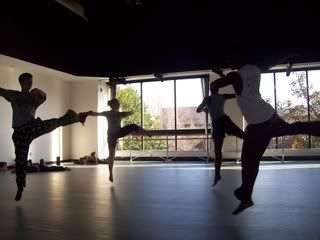 A few of the cast members were nice enough to show me some of a phrase from Gloria for the blog.

One motivating factor about dancing in Gloria is the fact that Morris and his company will be watching a rehearsal when they come to perform at the Center for the Arts in February. (No pressure here!) Marjorie Summerall, Program Coordinator of the dance department, has been acting as my informer on the inside since my graduation. When she told me that Morris would be watching rehearsal, she explained what an honor this is to the department and especially the cast. She said, "The music department can learn a piece by Mozart, but he won't be walking into one of their rehearsals." It's truly inspiring to have a living, working artist that can see how his dance looks as it is reset on a new cast and additionally offer that cast feedback.